Windows USB Blocker

Version: 5.0
| | |
| --- | --- |
| | Windows USB Blocker is the free tool to quickly Block or Unblock USB Storage Devices on any Windows computer. |
USB devices are one of the primary causes for spreading virus/malware from one system to another without the user knowledge. Often it is risky to allow others to insert USB stick (often infected with virus) into your system. Hence it is always advised to disable USB when you are not around. In such cases, Windows USB Blocker tool will help you to instantly block USB and safeguard your computer from these viruses.
Beauty of this tool is that it will block only USB Storage devices like USB Sticks or Portable Disks. However normal USB devices like wireless keyboard/mouse plugs, bluetooth/wireless/internet dongles will continue to work without any problem.
Now with v3.0, it has new command-line feature which is very useful in scripts and automation
It has cool GUI interface and very simple to use for everyone. With just one click you can instantly Block or Unblock USB on your computer.
Windows USB Blocker is successfully tested on all platforms starting from Windows Vista to Windows 11.
Free Tool to block or unblock USB
Command-line feature to use in scripts & automation
Blocks only USB Storage Devices (USB Sticks/Disks)
Simple tool with cool GUI interface
Displays current USB block status
No need to log off or restart the system
Fully portable, does not require any .NET or other dependencies
Includes Installer for local installation & un-installation
Works on both 32-bit & 64-bit systems from Windows Vista to Windows 11
Windows USB Blocker includes Installer so that you can install it locally on your system for regular usage. This installer has intuitive wizard which guides you through series of steps in completion of installation.
At any point of time, you can uninstall the product using the Uninstaller located at following location (by default)
[Windows 32 bit]
C:\Program Files\SecurityXploded\WindowsUSBBlocker

[Windows 64 bit]
C:\Program Files (x86)\SecurityXploded\WindowsUSBBlocker
'Windows USB Blocker' is very easy to use and it has both GUI & command-line interface.
Run 'Windows USB Blocker' on your system as Administrator
It will show you the current status of USB as shown in the screenshot 1/2 below
Now you can just click on button below to Block or Unblock USB.
That's all :)
First launch command prompt (cmd.exe) as administrator and then move to folder where you have installed 'Windows USB Blocker'. Then simply follow the examples mentioned below (as shown in the screenshot 3),
WindowsUSBBlocker.exe [ /block | /unblock | /status | /help]
WindowsUSBBlocker.exe
WindowsUSBBlocker.exe /block
WindowsUSBBlocker.exe /unblock
WindowsUSBBlocker.exe /status
WindowsUSBBlocker.exe /help
Here are the screenshots of 'Windows USB Blocker'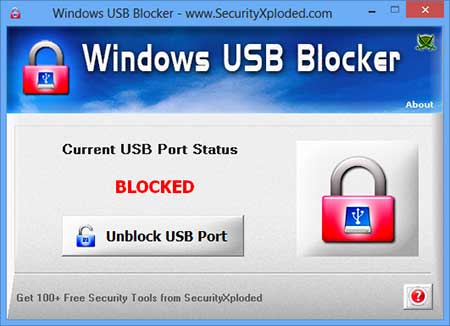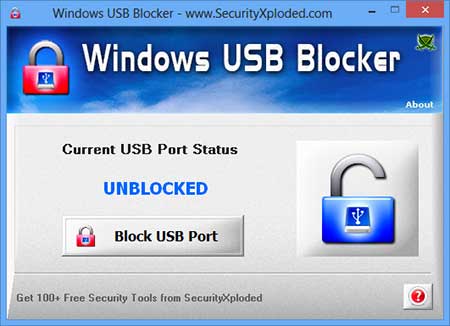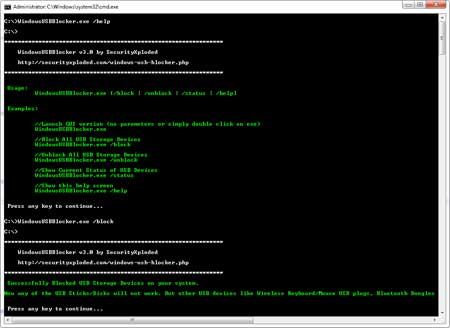 New 2023 release supporting Windows 11. Now comes with enhanced USB blocker feature, new installer & OS functions. Also removed support for Windows XP
Major 2019 edition to support USB blocking feature in latest Windows version.
Mega release with the support for Windows 10 version. Also added new command-line feature to use it in scripts and support automation.
New feature added to Installer to dynamically download latest version.
Minor updates to Installer. Also removed false positive with Antivirus solutions.
Integrated Uninstaller into Windows Add/Remove Programs, now you can uninstall it in a standard way.
Improved GUI interface with magnifying icon effects.
First public release of Windows USB Blocker